Selecting the ideal kitchen faucet can be difficult. With many alternatives, homeowners frequently struggle to decide between stainless steel and chrome finishes. To assist you in making an informed decision for your kitchen, we will examine the qualities of stainless steel de pth in chrome fau this thorough guide.
Chrome Kitchen Faucets
Overview and Features
The sleek, mirror-like appearance of chrome faucets is recognized for giving any kitchen a sense of elegance. These faucets are strong and corrosion-resistant since they are made of a brass base with a thin layer of chromium coating. They are a great option For busy kitchens because of their attractive reflecting surface, which is also simple to clean.
Chrome faucets' advantages
Affordability: Compared to stainless steel, chrome faucets are frequently more affordable.
Simple to clean: Fingerprints are less noticeable because of the smooth surface, which is easy to wipe down.
Chrome faucets are versatile and go well with traditional and contemporary kitchen designs.
Durability: Although chrome faucets are reasonably robust, they may eventually start to peel or chip. Scratches are sometimes seen more because of the reflected quality of the bright surface, which is prone to them.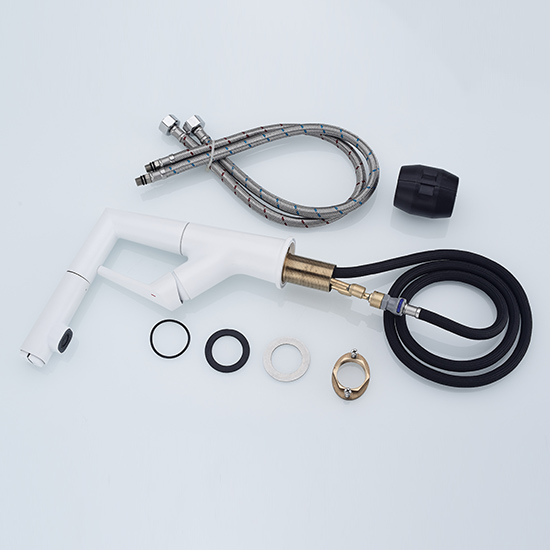 Kitchen Faucets Made of Stainless Steel
Summary and Characteristics
Solid stainless steel alloy is used to create stainless steel faucets renowned for their durability and lifespan. As a result of its resistance to rust, corrosion, and tarnishing, this material is a great option for durable kitchen fixtures. Stainless steel faucets with a brushed or Matte surface can match different kitchen styles and better conceal water stains and fingerprints.
Benefits of Faucets Made of Stainless Steel
Durability: Stainless steel faucets can withstand the test of time without displaying signs of wear because of their incredible durability.
Minimal upkeep: The non-porous surface requires less maintenance because it resists stains and distortion.
Health-conscious: Because stainless steel is a non-toxic and hygienic material, it is a good option for homes that care about their residents' safety and health.
Price: Compared to their chrome equivalents, stainless steel faucets might be more expensive.
Restricted style options: The glossy chrome finish may be more versatile, whereas the matte or brushed finish may not be as flexible.
Things to Take Into Account While Choose Between Stainless Steel and Chrome Faucets
Finances
While deciding between stainless steel and chrome faucets, consider your budget. Stainless steel faucets may be more expensive than chrome faucets, which are often less expensive.
Kitchen Design
Consider the general layout and style of your kitchen. While stainless steel faucets frequently go well with modern or industrial designs, chrome faucets can be versatile for various kitchen types.
Upkeep and Robustness
Examine your willingness to put in the time and effort necessary to maintain your faucet. Stainless steel can be a better choice if you need excellent durability and minimal maintenance. However, chrome faucets can be a great, cost-effective option, provided you're ready to put in a little extra work. A faucet that is ideal for your kitchen and way of life.
More Advice for Selecting the Ideal Kitchen Faucet
Features and Functions
Consider the features and functionality you need in a kitchen faucet in addition to the finish. Pull-down or pull-out sprayers, touchless operation, and built-in water filters are popular. Make sure the faucet you purchase satisfies your needs by deciding what features are necessary for your everyday use.
Size and Compatibility of Faucets
Ensure the faucet you select works with your kitchen sink and countertop arrangement. Before purchasing, measure the area around your sink and countertop and look up the faucet's parameters, such as the spout height, reach, and hole arrangement.
Warranties and client assistance
Kitchen faucets are investments, so picking one with a solid warranty and helpful customer service is important. To make sure you choose a faucet from a reputable manufacturer who stands behind their products, compare warranty coverage and read reviews.
Water Management
Your utility expenditures can be lowered and water usage increased with an eco-friendly faucet. Seek out faucets with the Water Sense logo or low flow rates without sacrificing performance.
In conclusion, deciding between a stainless steel or chrome kitchen faucet is important to carefully consider budget, style, maintenance, and durability. Consider the faucet's size, compatibility, warranty, usefulness, and water-saving attributes. You can choose the favorably not only enhances the design of your kitchen but also provides long-lasting function and satisfaction by carefully weighing your alternatives and preferences.
Buy the best kitchen faucet from Cn-aim.com
Discover the ultimate kitchen experience with CN-AIM's top-of-the-line kitchen faucets, where we combine unparalleled quality, innovative design, and exceptional value to create a perfect balance of form and function. Visit CN-aim.com today to explore our stunning collection and find the best kitchen faucet for your home.
Premium Quality Materials
At CN-AIM, we prioritize quality above all else. Our kitchen faucets are made from the finest materials, ensuring durability and longevity. The flawless finishes and rust-resistant surfaces guarantee that your faucet will remain as stunning as the day you bought it.
Cutting-Edge Technology
Embrace the future with our advanced faucets, featuring touchless operation, innovative water-saving systems, and 360-degree swivel spouts. Our innovative designs provide an unparalleled user experience, elevating your kitchen routine to a new level.